An Extraordinary Dining Experience
Good food, good drink, good people!
QUALITY & LOCALITY
Welcome to Decker Kitchen, where we put quality and service above all else. Our Farm-to-Table menu rotates seasonally based on the local ingredients that we source from area farms. Our cocktail program utilizes unique ingredients and refined spirits to create dazzling cocktails second to none. Our wine list… well don't even get us started on our wine list!

The truth is we're committed to serving our community a great meal in a relaxed environment. We take food & our service seriously, but not much else. Come hungry for more, because there's just so much to explore!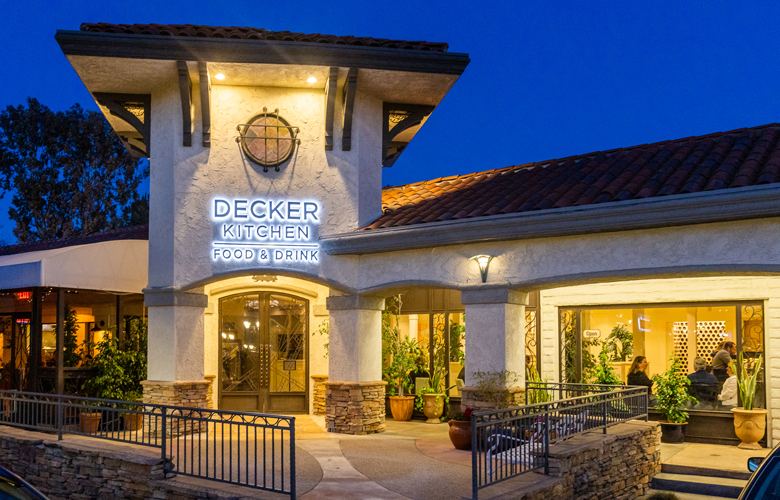 FARM FRESH
We're blessed with close proximity to some of the best produce in the world, and we take full advantage by sourcing from regional farm partners and taking frequent visits to nearby farmers markets. Fresh produce can be found throughout our dining menu and in our cocktails, as well.
FLOUR, YEAST, WATER, SALT
There's nothing better than the smell of fresh baked bread, the crunch of a good crust and the warmth of a soft interior. At Decker Kitchen we make sour dough loaves by hand daily, using a 24 hour fermentation process. You could say bread and butter is indeed our bread and butter!
SPECIALS & FAN FAVORITES
We're always experimenting and quick to place something new on the menu when inspiration strikes. Find new specials every weekend, but you'll always be able to find fan favorites. We know it's the standbys that'll keep you coming back for more.

Unrivaled
Atmosphere
Enjoy an elegant and vibrant atmosphere, great live music, eclectic wines and handcrafted cocktails. We are committed to delivering an unforgettable dining experience with impeccable service.
Address
3731 E Thousand Oaks Blvd,
Thousand Oaks, CA, 91362
Dining Areas
Indoor Dining & Heated Outdoor Patios
Private Party Rooms & Terrace
Our Hours
Wednesday – Thursday: 5pm to 8:30pm
Friday – Saturday: 5pm – 9:30pm
Sunday Brunch: 10am – 2pm
Closed: Monday & Tuesday
Parking Details
Our new location offers substantial parking in a centrally located and monitored parking lot. 
PRIVATE PARTIES
Main Dining Room: 90 guests
Covered Patio: 60 guests
Private Dining Room: 40 guests
Main Bar Area: 50
Fireplace Lounge: 25 guests
Entire Property: 300 guests
ENJOY TOGETHER
Sip slow and make fast friends.